The moai are amazing on Easter Island. However, one of the most astonishing things I saw during my recent visit was on Anakena Beach, a pristine white sand beach where the Polynesians first landed.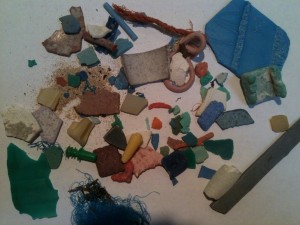 Check out the plastic debris I collected in just a couple of minutes on this beautiful empty beach. Every handful of sand had tiny particles of colored plastic. Anakena Beach was such a spectacular sight with fabulous moai perched on the sand…marred by the realization that plastic can find itself on an island that is the furtherest place from anywhere….2500+ miles from Santiago, Chile, in one direction and 2500+ miles from Tahiti in the other.
This sobering news is a reminder that we all need to reduce our use of plastic. Carry your own steel water bottle, use drinking fountains, and buy beverages in cans. Be aware that the plastic you throw away or recycle will remain in some form on this planet for at least 1000 years. Sadly, some of it will wash up on the shores of Easter Island.
Here's a short video of the view from behind the Moai…click below