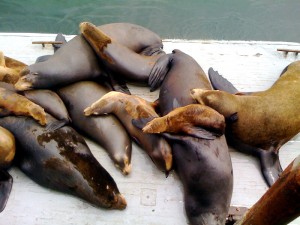 It has been a very unusual year for the marine mammals in the Monterey Bay. A sea lion gave birth to her pup on the main beach in Santa Cruz this month, in front of many vacationing onlookers. It was quite an event considering a sea lion pup can weigh up to 13 pounds and measure up to 2.5 feet long.
If you want to watch sea lion families at a very close and safe proximity, the Santa Cruz Wharf has several boat launching decks at sea level that have become home to many lounging sea lion families.
If you walk out to the lighthouse, you'll see many more sea lions occupying "Seal Rock" out past the surfers.   You can't miss their familiar barking!